DNA for Windows!
A small but powerful DNA sequence editing and analysis program for Windows 95/98/NT/ME/2000/XP
Current shareware version: 2.2.1
Current version for registered users: 2.5.1


NEW

- Registered users should have recently received v. 2.5.1. If you have registered and haven't received the update, please contact me.


NEW

- Trial edition of registered version available - see below.

Note: I can now accept credit card payments through PayPal. Just click on the button below & follow the instructions - you will be emailed the registered version and all subsequent updates.

Introduction
DNA for Windows is a compact, easy to use DNA analysis program, ideal for small-scale sequencing projects. It is particularly suited to working with chromatogram files from ABI machines, and is one of the few programs able to edit as well as view these files. The program has powerful DNA translation and restriction enzyme analysis facilities, and works with external programs to produce multiple alignments and contigs with ease.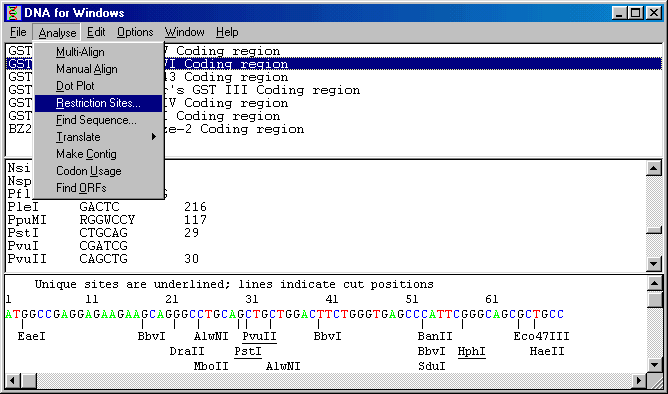 Figure 1. Main application with list of sequences (top window) text-based analysis (middle window) and graphical analysis (bottom window)
General Features:

Three-window view - maximise one or view all three, making navigation easy.


Loads FASTA format sequences and extracts sequences from text files.


Easy manipulation of sequences - removal of 'junk' text, reverse, complement, trim, etc.


Restriction enzyme analysis - custom groups of enzymes, only show enzymes that cut a certainnumber of times.


Translation of DNA to protein - Choice of 1-, 3- or 6-frame; can calculate mass of selected protein.


Easy multiple sequence alignment using interface to CLUSTALW program.


Manual multiple alignment - e.g. for 'tweaking' alignments.


Calculation of codon usage.

Automatic contig assembly - using interface to CAP program.


Dot-Plot analysis of 1 or 2 sequences.

ABI Chromatogram Manipulation:

Reads AND WRITES ABI chromatogram files.


Views chromatogram, with scalable X- and Y- axes (see figure 2), custom colours, etc.


Easy editing of base calls, with a single mouse click.


Automatic alignment with a second chromatogram - to quickly check base calls, or assemble contig.


Highly configurable printing of chromatogram - auto scaling of peak heights, line thickness, number of rows, etc.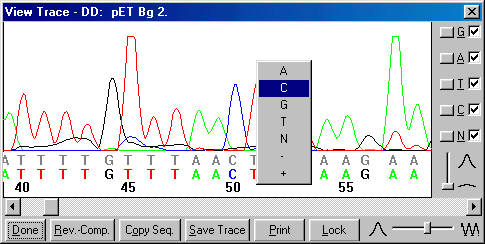 Figure 2. Chromatogram view window.
Download Files
View the README file for DNA for Windows
Download a fully functional evaluation version (780 KB)
If you wish to perform multiple alignments you will also need to download and install ClustalW from:
ftp://ftp.ebi.ac.uk/pub/software/dos/clustalw/clustalw1.83.XP.zip



NEW

- A trial edition of registered version is available - This is identical to the registered version but INTRODUCES RANDOM ERRORS INTO YOUR SEQUENCES, and is for testing purposes only. Download trial here.

If you find the program useful, don't forget to register - you will receive the latest version which already has a number of significant improvements over the evaluation version.
Contact the Author
Please try the program and let me know what you think - if you don't tell me what's wrong with it I can't improve it!